Assassin's Creed Odyssey PS4

The Odyssey in Assassin's Creed Odyssey PS4 stands fitting as the game is an astonishing role-playing action adventurous game. Following its predecessors, Assassin's Creed Odyssey PS4 is a beautiful, amazing, and huge open-world game. Having a tradeoff between quality and quantity so little is such a rare site as observed in the game. That's why Assassin's Creed Odyssey PS4 easily takes over a being more dazzling and inspiring game regarding the previous ones.
Background Story:
Assassin's Creed Odyssey PS4 takes place more than 2400 years ago during the Peloponnesian war. A long brawl between Athens and Sparta for the throne of the Greek world. The main character is to become a mercenary and is eligible to fight for Athens or Sparta. The storyline has the main character trying to reestablish their broken family after they were lost in their childhood. Left for dead by their father by the order of the Spartan oracle. The game highlights various historical personalities players can experience and chat with, including Alcibiades, Archidamus II, Aristophanes, and many more.

Main characters of Assassin's Creed Odyssey PS4:
For the first time in the history of the series, we get to decide the gender of our main character. As a man (Alexios) or as a woman (Kassandra). Even though their role as the main character throughout the game is the same regarding the story. But looking into this aspect the voice acting of Kassandra is tuned way more well done than that of Alexios.
Assassin's Creed Odyssey PS4 Gameplay:
Assassin's Creed Odyssey PS4 features a full-fledged role play gameplay in which every single one of your actions has its consequences. For all the murders you commit while roaming the map for fun the new notoriety system issues a bounty on your head which is a lot realistic and common sense. Also, the game takes different turns according to your own choices provided to you during dialog phases. There is no turning back from the option you choose, you can be rude, kind, or a person who does not care enough. There are multiple endings in Assassin's Creed Odyssey PS4 depending on what choices you make because the lives of side characters are riding on your hands. You unknowingly decide their fate whether they live throughout the end or not.
The game includes land combat as well as naval combat lead by our main character in merciless tides of the Aegean Sea. The return of brawl of vessels of the sea with ramming, rain of arrows, hurling javelins, and raiding them brings back memories of previous games like Assassin's Creed Black Flag. Unlike the previous game Assassin's Creed Origins side quests are not mandatory to play the storyline of the game. You can play the fun and adventurous side quests whenever you want to take a break from the original story and can eventually return to it whenever you want.
Assassin's Creed Odyssey PS4 Combat Style:
As Assassin's Creed Odyssey PS4 is a role-playing action game you can upgrade the skills of the main character in three different aspects Hunter, Warrior, and Assassin as you gain experience from completing missions and tasks. While the framework fills in as promoted, it doesn't take Assassin's Creed back to its stealth-centered roots. Assassin's Creed Odyssey PS4 allows you to choose your fighting style through the up-gradation of the skill tree including all these paths. The weapons are blades, knives, tomahawks, maces, lances, and fights, all of which carry on distinctively enough for important subtlety. In the warmth of fight, it's simple to get a handle on the arrangement of cuts and abilities particularly against unrealistic chances, similar to the Greek legends. Each skill in the skill tree offers a unique piece of gameplay.
Hunter:
Choosing and upgrading the hunter path allows you to be good at long-ranged fights and inducing heavy damage and terror on their mind from way out of their reach.
Warrior:
The path of warrior features the iconic spartan close-range fighting style with brute strength courage and bravery. Like charging on your enemies fearlessly and have no mercy.
Assassin:
This path is of course the well-known path in the series Assassin. Skills in this path are more about stealth and speed then combat like performing silent skills while walking or form height and blending in the crowd to avoid combat.
Recruiting Lietenants:
There's one perfect expansion to stealth, you can select characters and transform foes into partners. You can assign these enlisted people to be lieutenants that you can call into a fight to make interruptions, making it simpler to subtly bring down enemies.
Assassin's Creed Odyssey PS4 Environment:
Assassin's Creed Odyssey PS4 carries Ubisoft's cultural aspect of the highly detailed open-world experience. Historical Greece has never been embraced and explored in such a realistic manner before like the wrecked ruins of marble buildings, broken down tombs, and massive colossal statues. The massive map is filled up with unique places to explore with different perks owned by each area like Aegadean islands, marsh wetlands, mountain areas, and lush forests. Each side of the map has its colorful aspects to offer like HDR lighting and weather.
Ubisoft's group has worked admirably making Odyssey similarly to Origins, with a wide scope of converging A.I. environments. Old Greece is filled by fighting groups, with Spartans, Athenians, and other nations littering the world with brutality and fights. You can likewise participate in these enormous scope epic battles yourself. as a component of the game's success framework. And the volume of battling NPCs on-screen all without a trace of a slowdown is very noteworthy.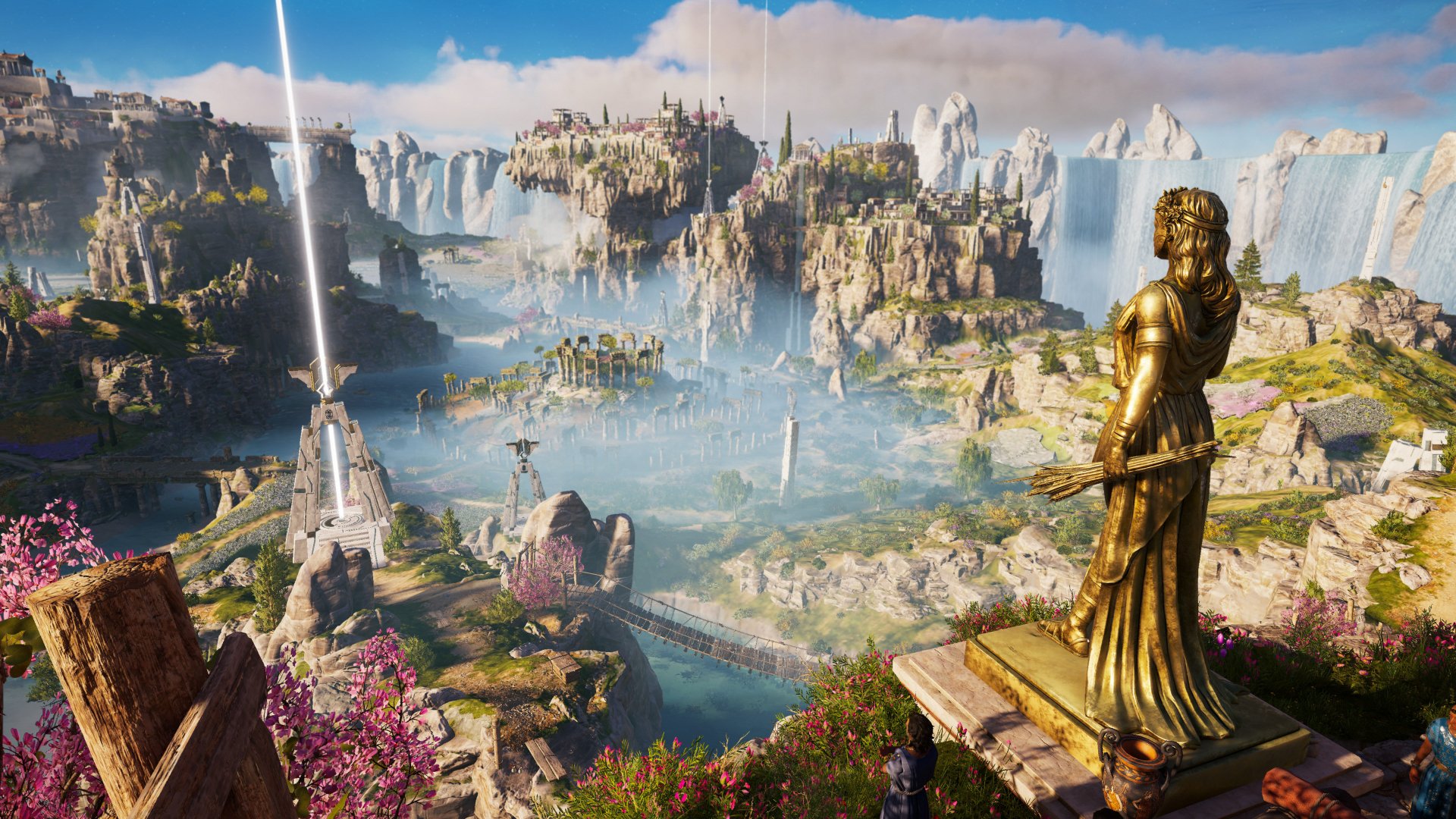 Verdict:
Assassin's Creed Odyssey PS4 is a resounding accomplishment in world-building, environment, and appealing game-play. With rare bugs and problems throughout the game. It's an amazing portrayal of the life of ancient Greece. Which helps players to live life in the era of 431–422 BC. Even though Assassin's Creed Odyssey has some rough points. Despite that, it still holds its position as one of the best open-world games ever made.
Read Next: Outward PS4, An Expensive RPG
Read what others liked about this Game:
Share This Article, Choose Your Platform!